Would you like to switch to a lower SendLayer plan?
If you've decided you don't need all of the features provided by your SendLayer plan, or if you aren't sending as many emails as you thought you would each month, you can downgrade your account to a lower plan. This can save you some money each month while still improving your transactional email deliverability.
In this tutorial, we'll show you how to downgrade your SendLayer account.
The first thing you need to do is log in to your SendLayer account and navigate to your dashboard. From here, there are 2 ways you can access the downgrade page.
First, you can click on the Upgrade link next to your current plan in the Account Overview section of your dashboard.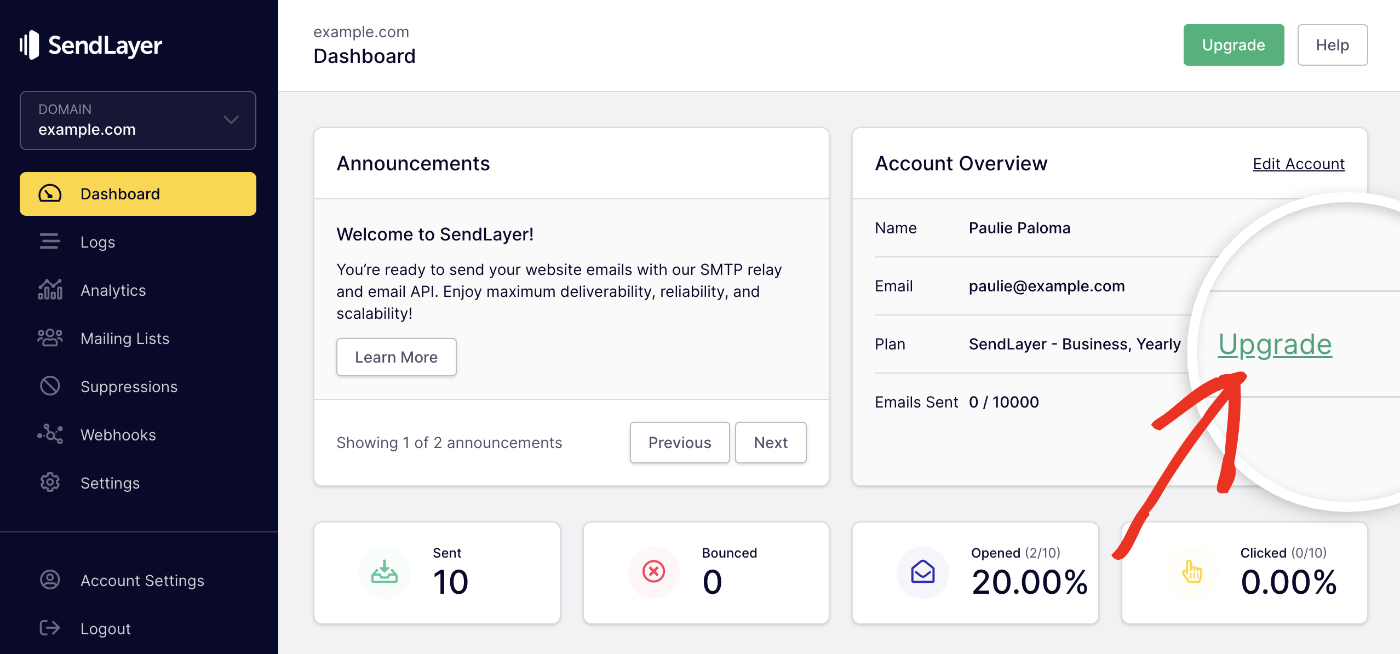 Alternatively, you can click on Account Settings in the sidebar menu.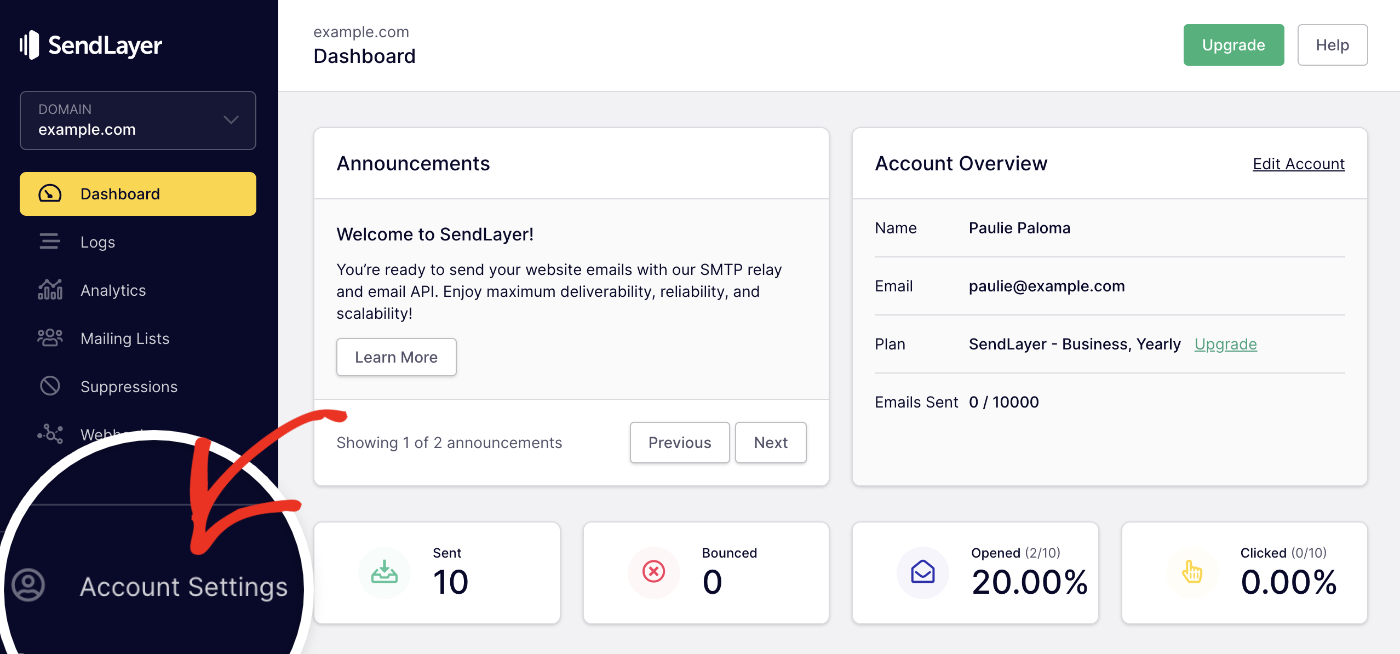 Next, look under the Account Information section. Here you'll see an Upgrade link next to Current Plan.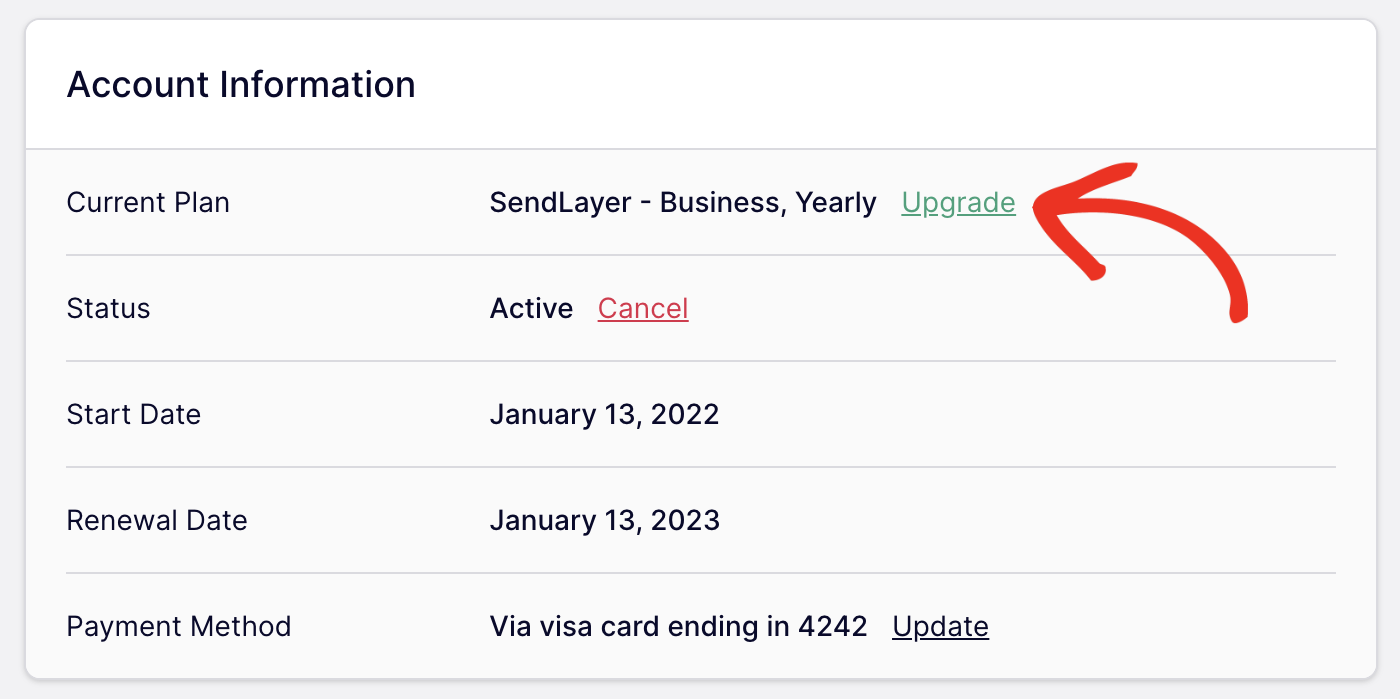 Click on the Upgrade link to go to our Pricing page. You'll see a Downgrade button for each plan that's lower than your current one. Click on the button for the plan you'd like to switch to.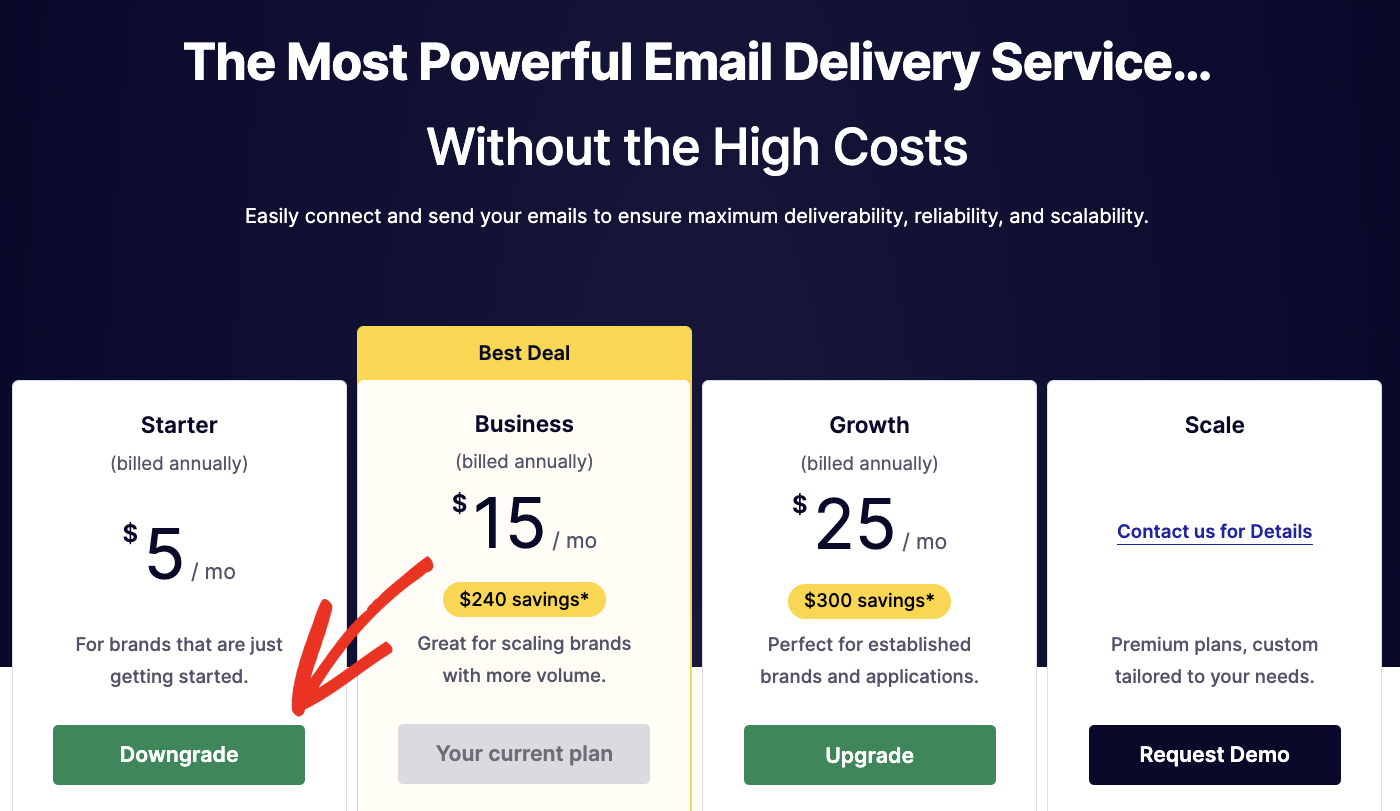 You'll then be directed to the checkout page. Don't worry, no payment is required to downgrade. Just click on the Switch Subscription button.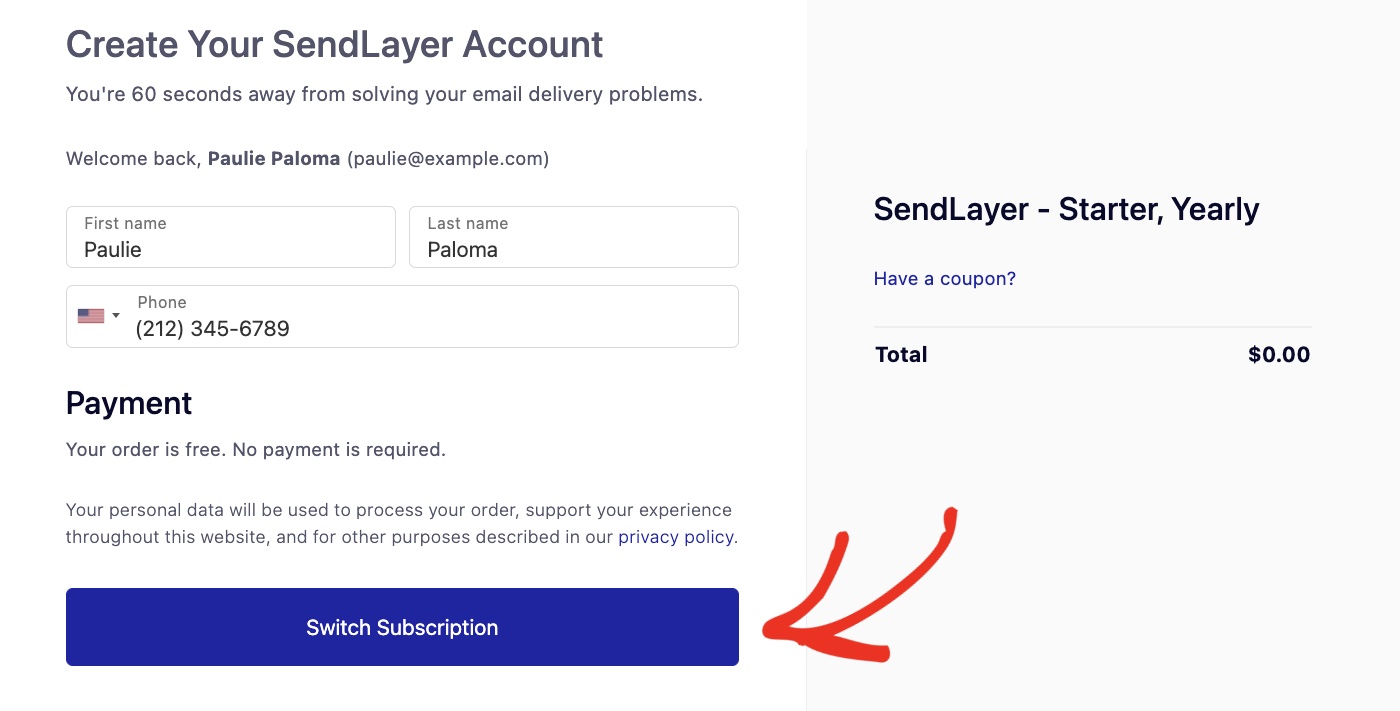 Next, you'll see a confirmation page showing that your order has been completed. Click on Continue To Dashboard to return to your dashboard.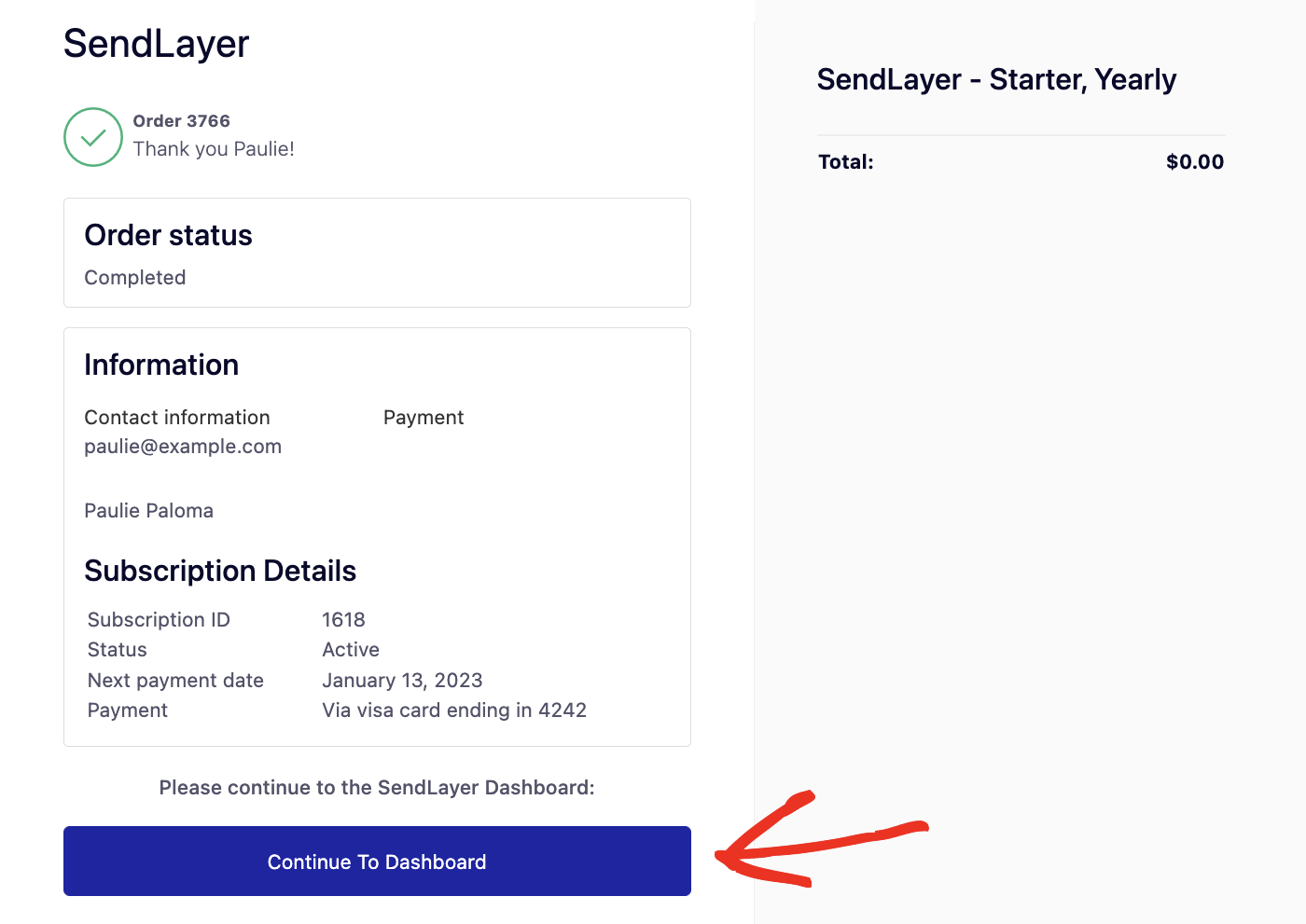 The downgrade will go into effect on your account's renewal date. When your plan is up for renewal, you'll be charged the price for your new plan.
Frequently Asked Questions
These are some questions we often see regarding SendLayer account downgrades.
Why isn't the downgrade showing in my account?
Your downgrade will not go into effect immediately. You'll be moved to your new plan once your account is up for renewal, and be charged the lower renewal price at that time.
Will I get a refund for my higher plan when I downgrade?
We do not issue prorated refunds to users who are downgrading their accounts because they still have access to their higher-level plan's features until their renewal date.
That's it! Now you know how to downgrade your SendLayer account.
Next, would you like to learn about adding a new domain to your SendLayer account? Check out our tutorial on authorizing your domain for more information.