SendLayer is a transactional email provider, but what is transactional email exactly?
In this article, we'll go into detail about what transactional email is and the situations where you should use it.
We'll give you some examples of different types of transactional emails and explain why you might need a transactional email service like SendLayer.
What Is Transactional Email?
Transactional emails are emails that are generated and automatically sent from a website, plugin, or app when a user carries out an online transaction.
Ecommerce websites use transactional emails to send order confirmations, shipping notification emails, abandoned cart reminders, and other messages related to online purchases.
But you can also use transactional email for sending automated messages for password resets, account creation confirmations, and other critical information for users.
What Is the Difference Between Transactional Email and Marketing Email?
Transactional messages are sent one at a time to a specific user, triggered by an action or event such as completing checkout or requesting a password reset.
Marketing emails can be a single, one-off email, but they're more commonly a series of emails or weekly emails. Marketing emails are sent to multiple recipients on a mailing list to promote products or services, increase brand awareness, or achieve other marketing goals.
Transactional Email Vs. Bulk Email
The main difference between transactional email and bulk email is that transactional email is sent to a single user, while bulk email is sent to many users simultaneously.
You can take advantage of automation when sending bulk emails, as they can be scheduled to be sent at a specific date and time. But usually, bulk emails are triggered by a human clicking a "send" or "schedule" email button. In contrast, transactional emails are 100% automated and sent by a website, app, or platform in response to a specific trigger or user action.
To help you understand the differences between transactional and bulk email, take a look at the table below.
| | Bulk Email | Transactional Email |
| --- | --- | --- |
| Purpose | Marketing, promotions | Account updates, notifications |
| Recipients | Large audience | Individual recipients |
| Content | Product offers, campaigns | Order confirmations, purchase receipts |
| Timing | Scheduled campaigns | Triggered by specific actions |
| Frequency | Varied, frequent | Based on user interactions |
| Design | Branding and visuals emphasized | Simple, information-focused |
| Personalization | Segmentation and customization | Personalized user data |
| Permission | Users must opt-in | No opt-in needed |
| Examples | Weekly newsletter | Password reset email |
Types of Transactional Emails
Some common examples of transactional emails include:
Welcome emails
Account creation confirmations and registration emails
Login details
Password reset emails
Account notifications
Membership expiry warnings
Order confirmation emails
Shipping confirmations
Purchase invoices
Payment failure warning
Abandoned cart emails
Booking confirmations
Automated review and feedback requests
Why Use Transactional Emails?
Manually sending information related to a user's purchase or account is time-consuming and provides a poor user experience to the email recipient.
For example, if you request to reset your password, you don't want to have to wait hours or days until someone on the customer services team can reply to your request. And if you order a product, it's not ideal if you have to follow up by sending an email to make sure the company got your order.
Because a user action triggers automated transactional emails, they are sent immediately and should be received almost instantly, provided you use a good transactional email provider.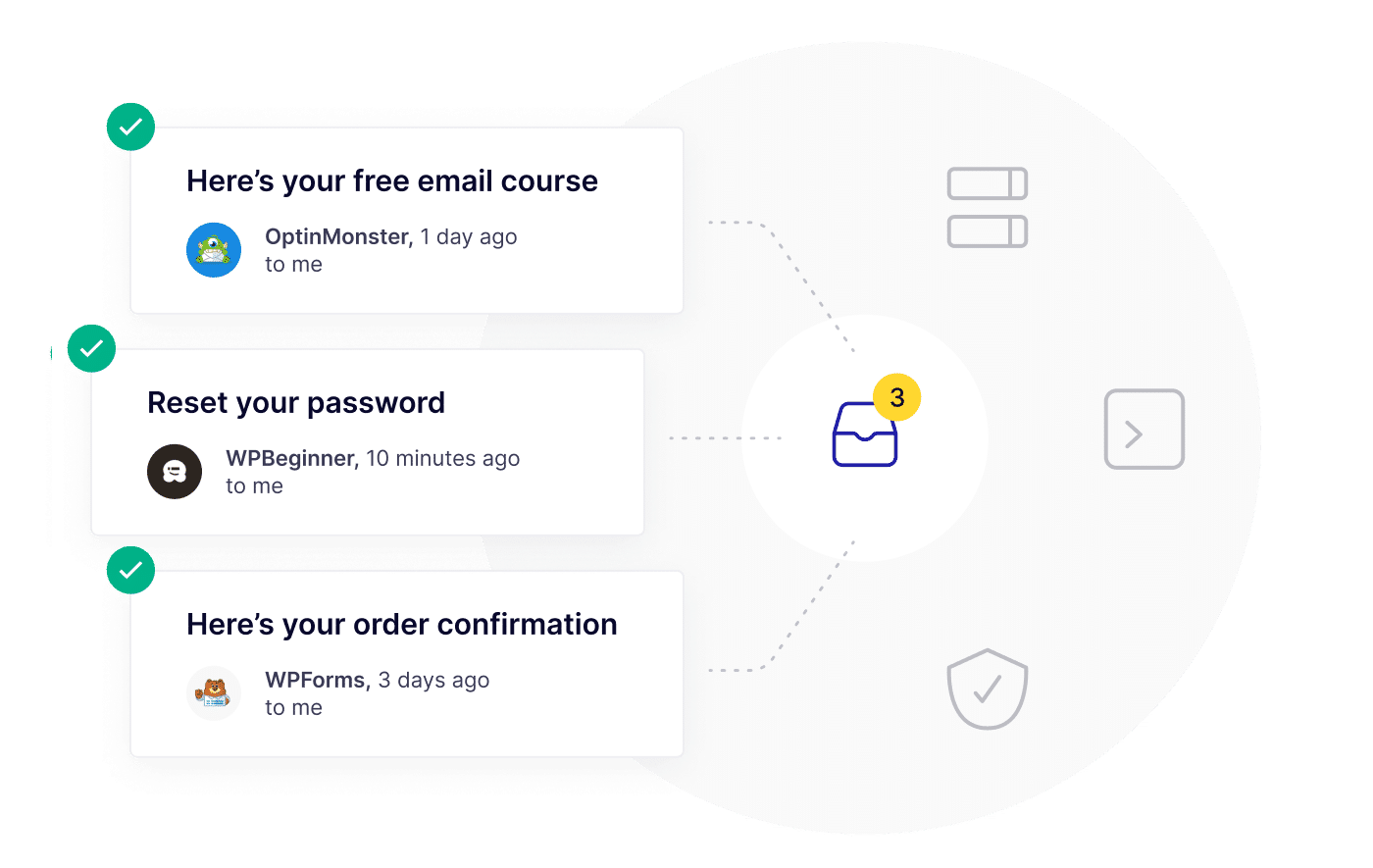 Users expect to receive emails like the examples listed above within a few minutes. So, it's crucial to ensure your transactional emails are automated, delivered quickly, and not blocked or marked as spam by the recipient's email service provider.
Do Transactional Emails Need an Unsubscribe Message?
Unlike bulk emails, you don't need to request permission from a user before sending a transactional email.
Marketing emails or email campaigns sent for commercial purposes should include an easy way to unsubscribe to comply with anti-spam laws such as the U.S. CAN-SPAM Act and GDPR.
Most transactional emails aren't classed as commercial messages, so you don't need to include an unsubscribe link in most cases.
However, if you also include marketing messages in your transactional emails, they could be classified as commercial content.
It's best to send your marketing emails and transactional emails separately to avoid your messages being categorized as spam.
Email Marketing Service Vs.Transactional Email Service
Many websites will send both transactional and bulk marketing emails to their users. While it can be tempting to use a single email service for both types of emails, email marketing providers and transactional email services are quite different.
Email Marketing Platforms
Email marketing automation platforms are designed for individuals and companies sending bulk emails to a mailing list, usually for marketing campaigns and other promotional purposes.
These platforms include tools for managing your mailing lists, templates for designing visually attractive emails, and pre-built forms for users to sign up and give permission to receive promotional emails.
Some examples of popular email marketing services include Constant Contact, Brevo, and Mailchimp.
Transactional Email Providers
SendLayer is a transactional email service. It's designed to send individual emails to a specific user, triggered by an action.
As transactional emails are primarily informational and functional, transactional email services don't usually offer the design and marketing tools included on email marketing platforms.
Instead, they focus on email deliverability by sending through an API or SMTP service. It's crucial that the user receives email messages such as password reset links and order confirmations, and using a transactional email provider is the best way to make sure that happens.
Transactional Email Best Practices
Aside from convenience, transactional emails can be a great opportunity to strengthen your brand and build better customer loyalty and relationships.
To make the most out of your transactional emails, follow these best practices to provide the best possible customer experience.
Consider Your Subject Lines
Transactional emails have a much higher open rate on average than other types of emails, so you don't need to be too clever with your subject lines.
It's best to keep them concise and descriptive so that users understand what the content of the email will be.
Use Personalization
As each transactional email is sent to a single user, you can make use of personalization to make them more relevant and friendly.
Make sure to address the recipient by their name and include any relevant information, such as order numbers and the products they've purchased.
Make It Easy to Get in Touch
Don't make it difficult for your users if they want to contact you. It's best to send emails with a "from" address that you're actively checking for messages, and consider including links to your social media profiles and other ways to get in touch.
Ensure Emails Are Sent Quickly
Users don't want to wait around for important email messages, so use a transactional email provider with a reputation for speed and reliability like SendLayer.
Using a dedicated IP address for your email can also help to ensure deliverability.
Making Sure Your Transactional Emails Are Delivered
SendLayer is the best transactional email service for small businesses and websites that want to ensure their emails are delivered fast and reliably every time.
SendLayer sends automated emails from your website and other transactional emails by SMTP to ensure deliverability.
When you send transactional emails directly from your website without any SMTP service, they can sometimes fail to send or be flagged as spam.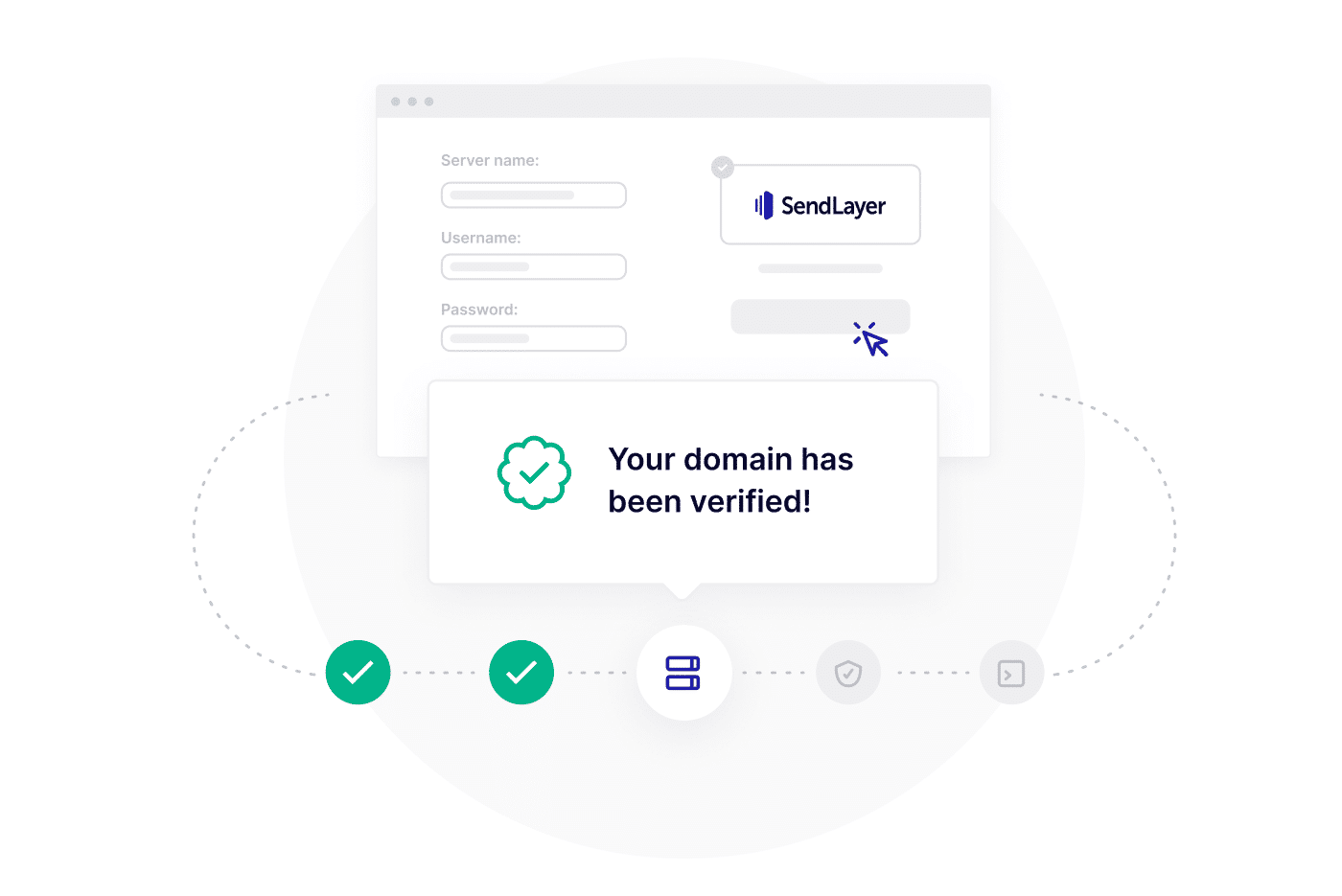 SendLayer authenticates your domain as an email sender and protects it by creating a subdomain so that it doesn't end up on any spam blacklists.
It then sends your emails by SMTP to ensure they hit the recipient's inbox rather than their spam folder. You can find out more about how SendLayer works in our beginner's guide.
SendLayer also includes real-time visual reports so you can see the delivery status, open rate, and click-through rate of your transactional emails.
That's it! Now you know what transactional email is.
Next, would you like to learn more about SMTP? Check out our guide on what SMTP is and how it works for more information.