Do you want to know how to set up SendLayer on your website hosted by A2 Hosting?
With SendLayer's transactional email service, you can send mail easily and efficiently from your domain on A2 Hosting.
This tutorial will show you how to set up SendLayer on A2 Hosting.
Before getting started, be sure to:
Accessing DNS Records In SendLayer
When you add a domain to your account, SendLayer will automatically detect your domain host and generate 5 DNS (Domain Name System) records unique to your domain.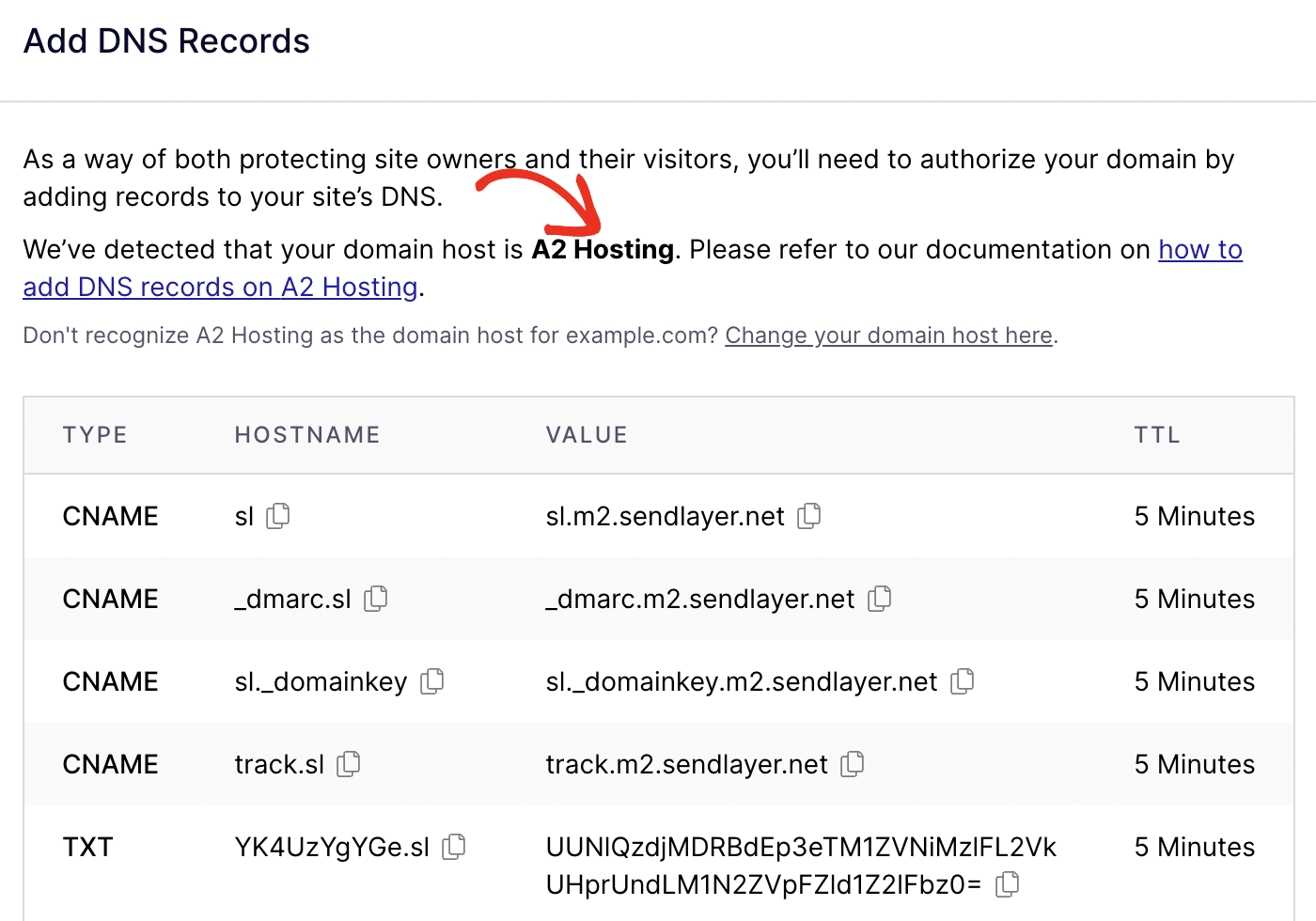 If it doesn't detect the correct domain host, click Change your domain host here to choose your domain registrar.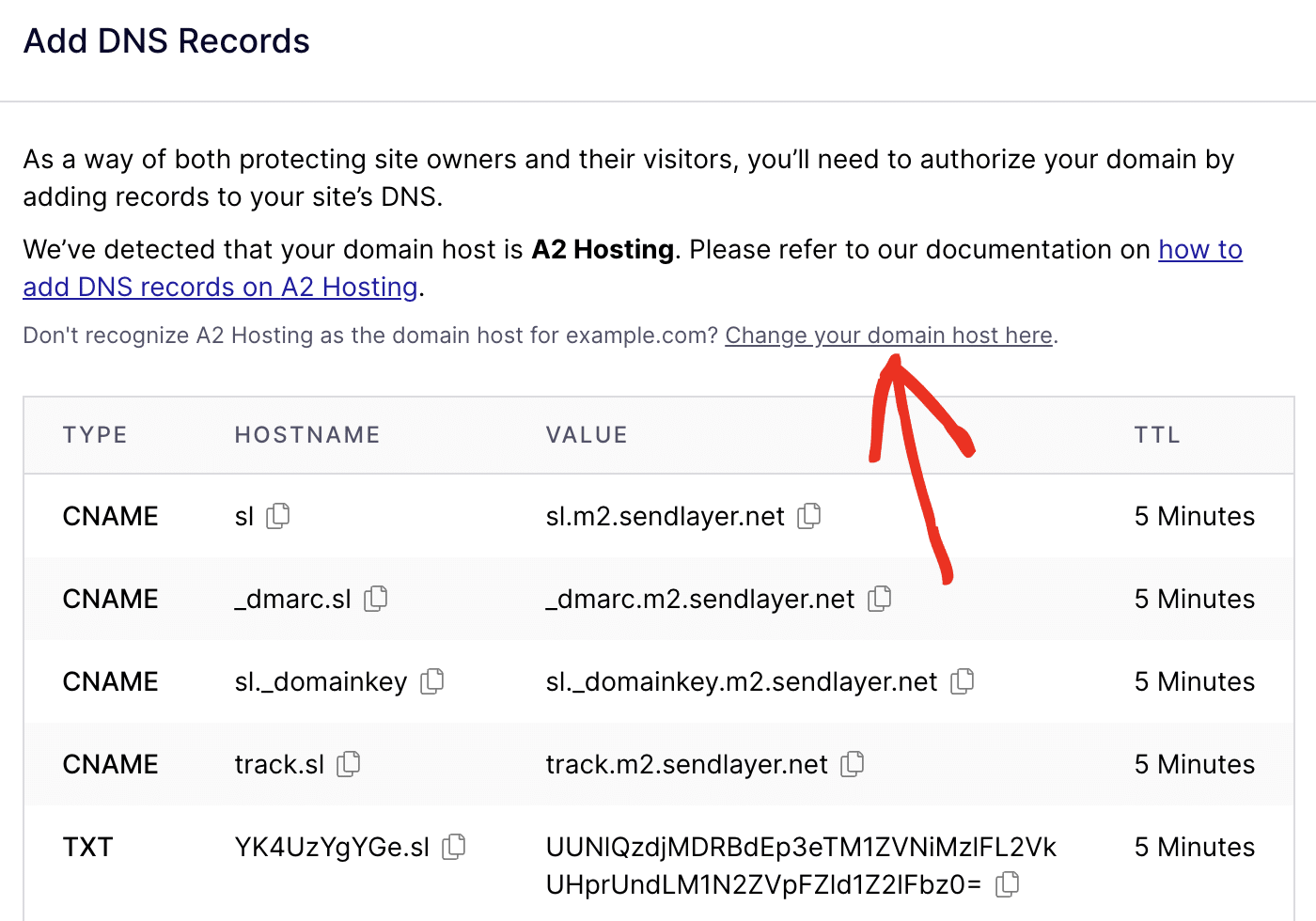 In the overlay that appears, click the Choose your domain host dropdown and select A2 Hosting from the available options.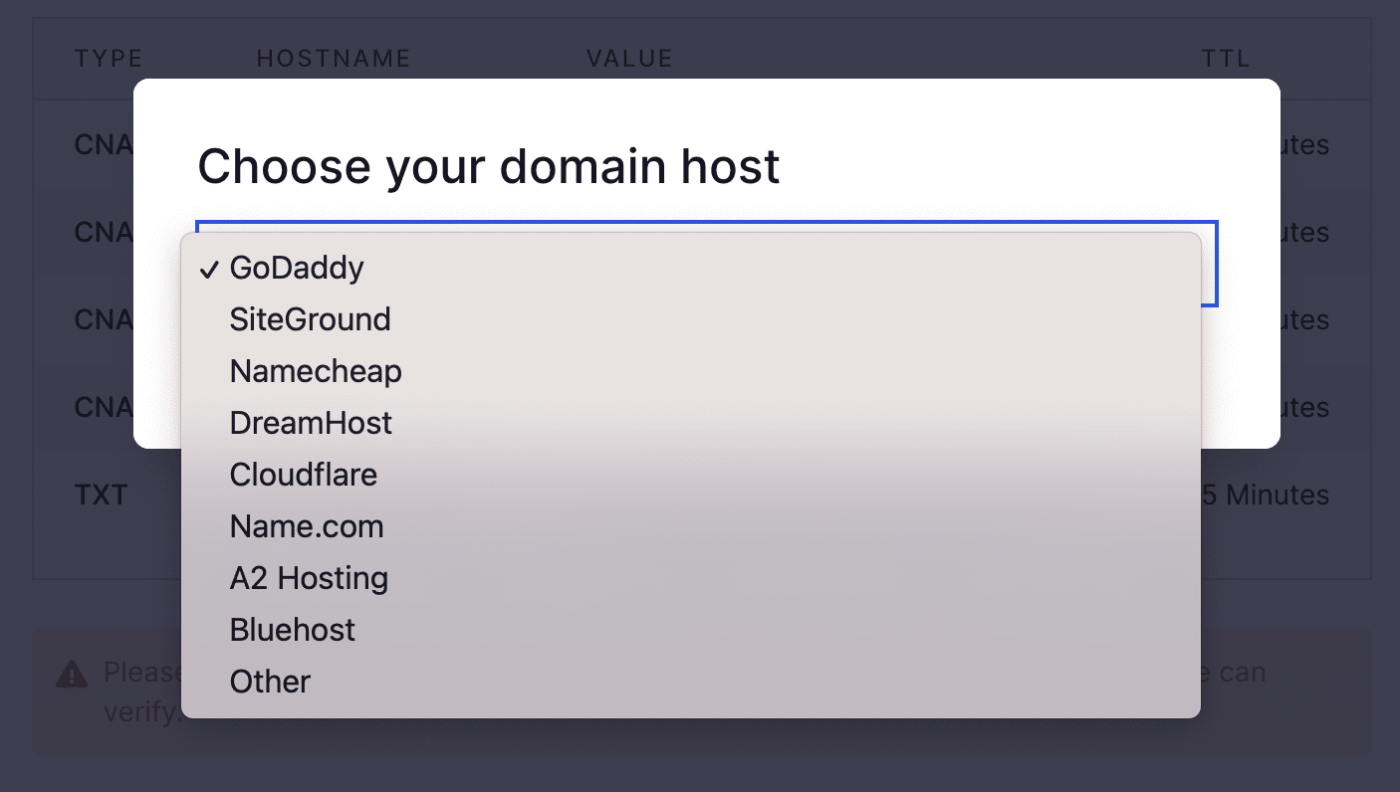 Note: Every time you add a domain to your account, SendLayer automatically creates the sl subdomain for you. For instance, if your domain is example.com, the subdomain would be sl.example.com.
Check out our article on why SendLayer creates a subdomain for more information.
SendLayer will provide the following types of DNS records:
Each DNS record has a specific HOSTNAME, VALUE, and TTL (time to live) for your domain. You'll need the HOSTNAME and VALUE to get SendLayer up and running on your domain on A2 Hosting. We'll cover how to do this in the next few steps.
Note: A2 Hosting does not allow you to modify the TTL for your domain, so you won't have to use this.
Preparing Your Domain
You'll need to modify your domain's nameserver settings before you can edit your DNS records in A2 Hosting.
To get started, log in to your A2 Hosting account and click Domains.

You'll now see a list of your domains. To edit the domain you plan to use with SendLayer, click on the wrench icon to the right.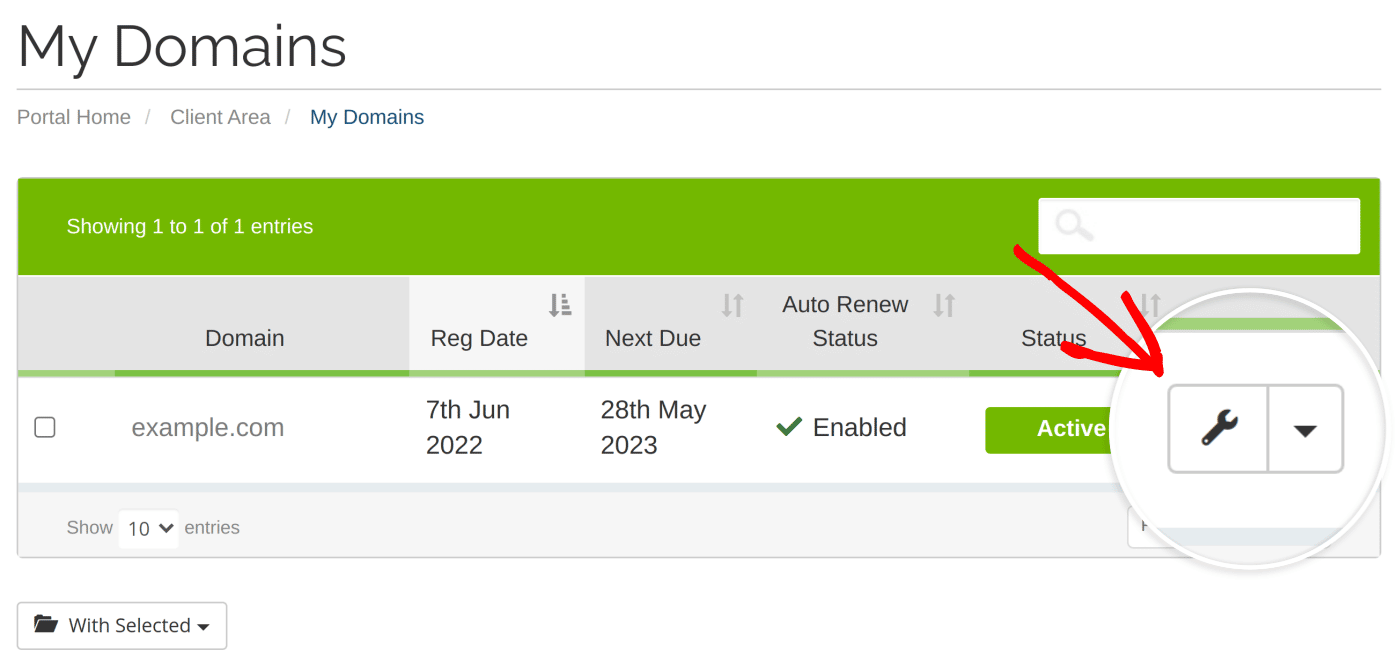 Note: You can also click anywhere within the row of the domain you'd like to edit. Please don't click on the domain text itself, as this will open the domain.
Next, click on Nameservers to open your domain's nameserver settings.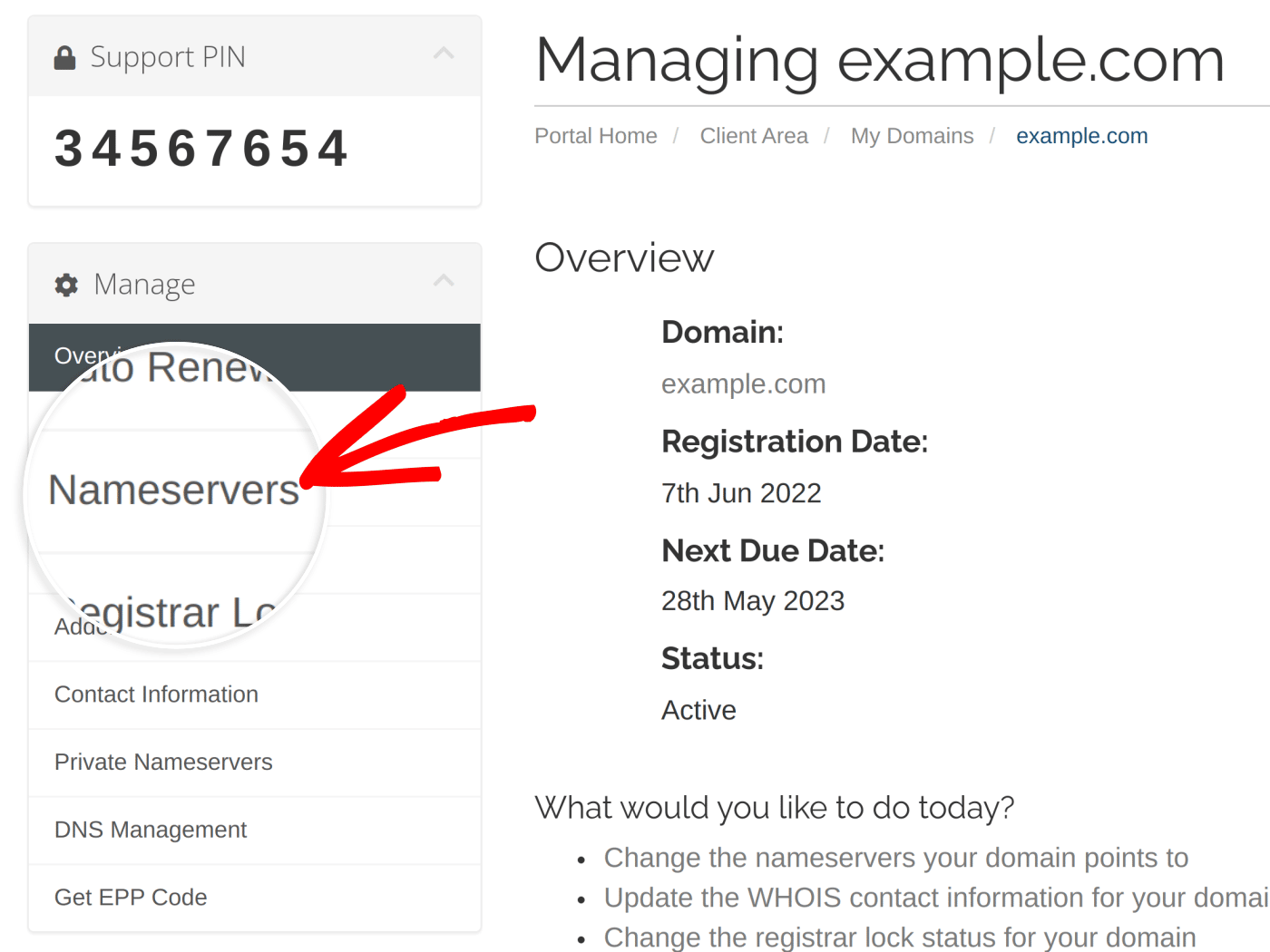 By default, your domain will use the default nameservers. However, you will need to use custom nameservers to modify your DNS records. To do this, check Use custom nameservers (enter below).

Now, ensure that you have the following custom nameservers set for your domain:
dns1.name-services.com
dns2.name-services.com
dns3.name-services.com
dns4.name-services.com
dns5.name-services.com
We've included an example of the configuration you'll need below: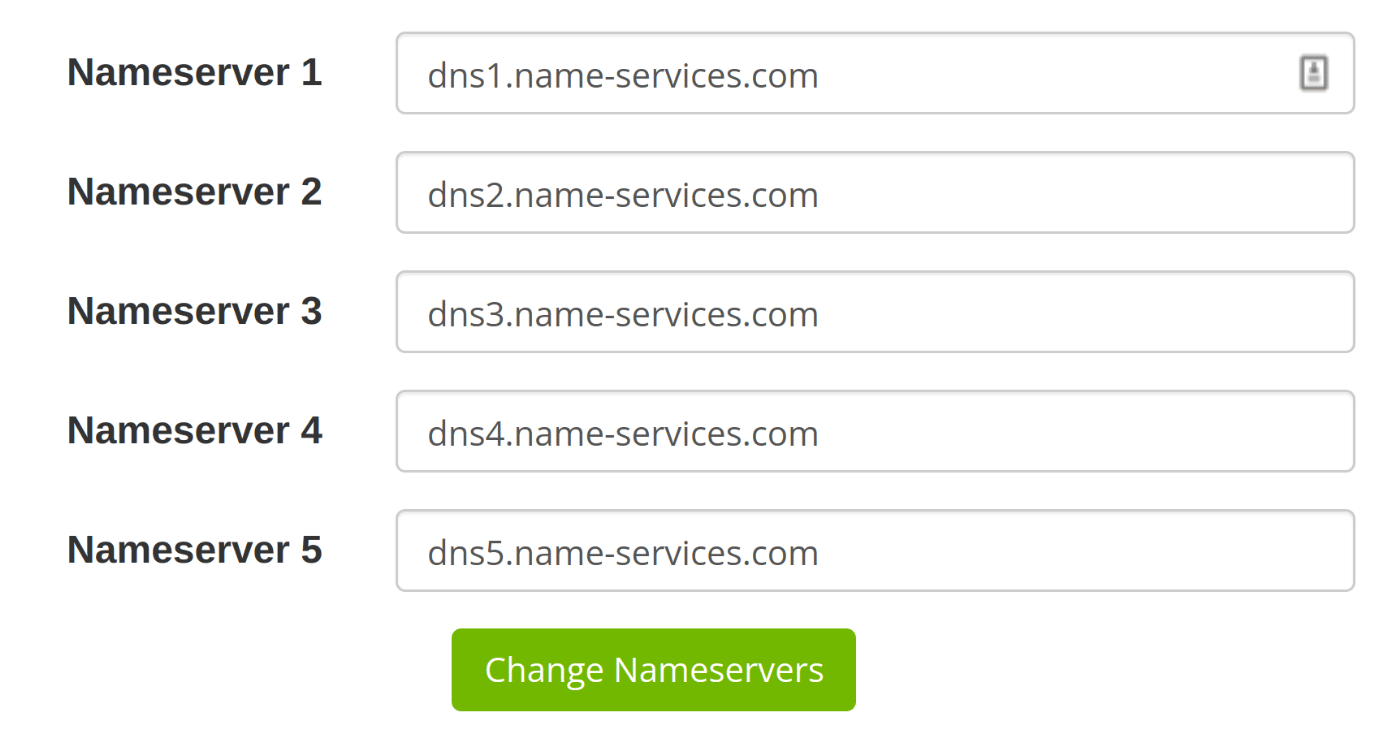 To save your changes, click Change Nameservers.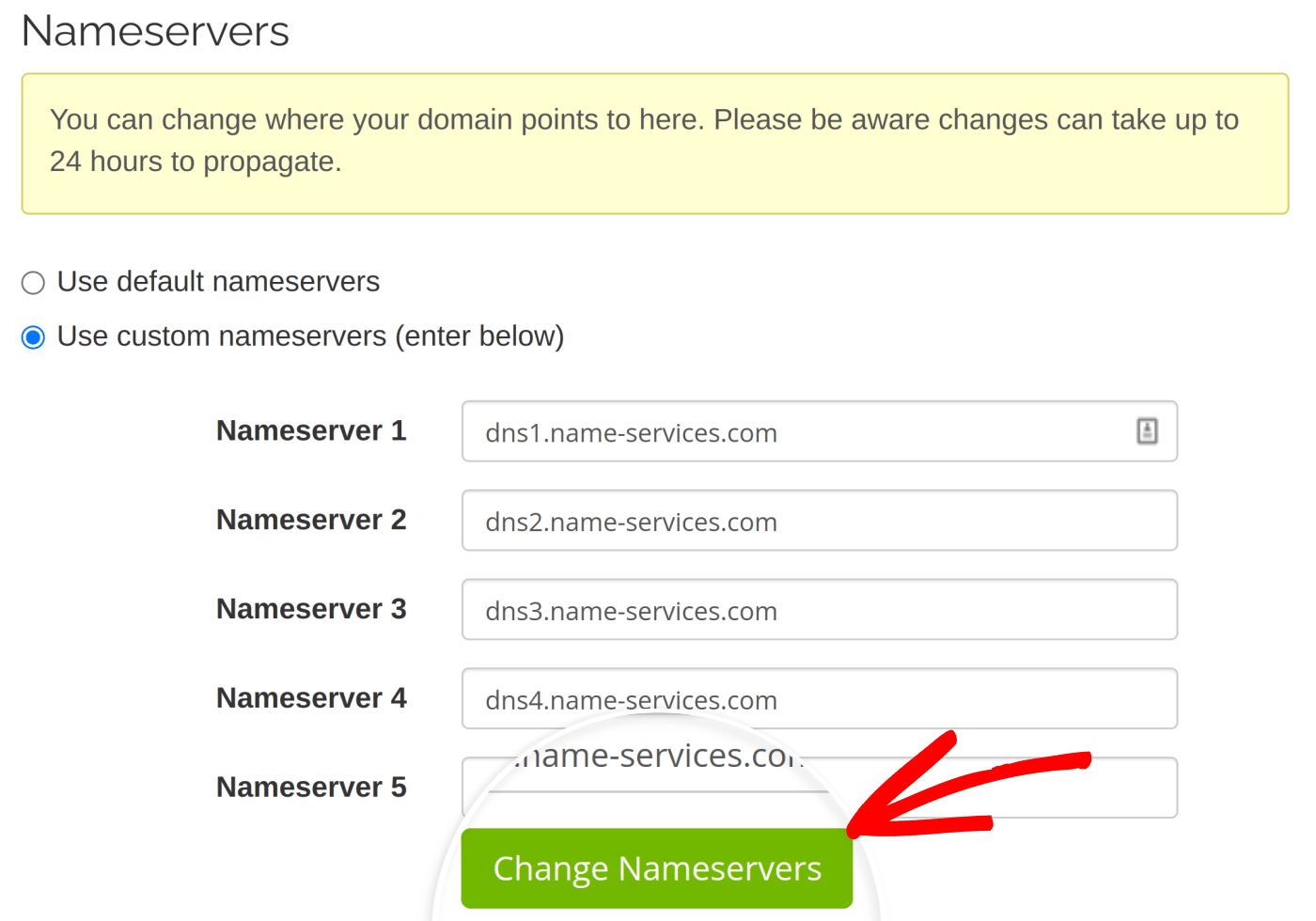 Note: For more information on why this change is necessary, you can read A2 Hosting's documentation on managing DNS records.
Editing Your DNS Settings in A2 Hosting
To access your DNS settings, click DNS Management in the menu on the left.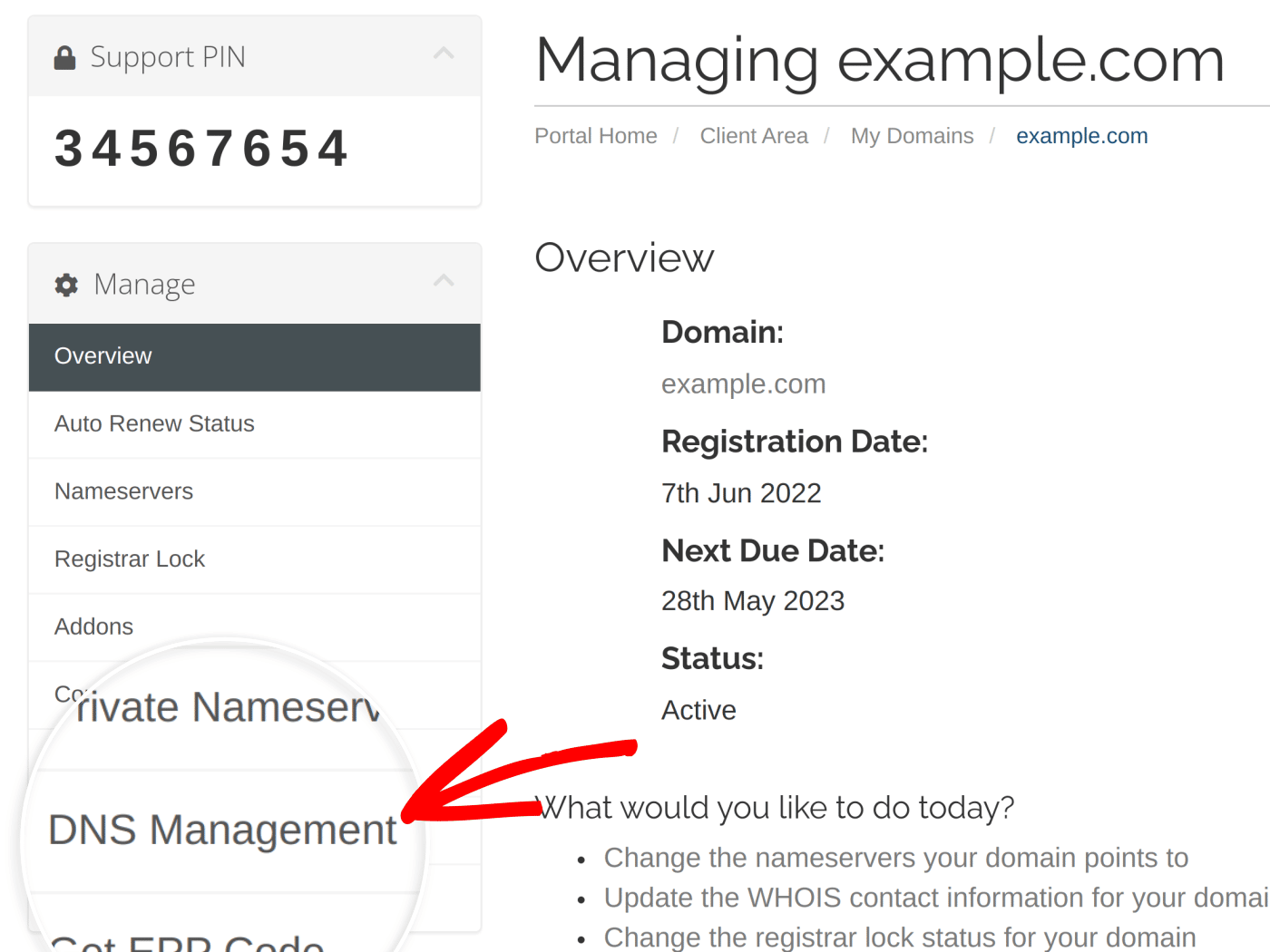 You'll now see a list of the records associated with your domain.
Adding DNS Records in A2 Hosting
Within the DNS Management page, you'll need to add the DNS records required to set up SendLayer for your domain.
Note: We recommend keeping your SendLayer and A2 Hosting settings open in different tabs to make copying and pasting your DNS records easier.
To get started, copy the HOSTNAME of the first DNS record SendLayer provided. You can click the copy icon to the right of any entry to copy its value to the clipboard.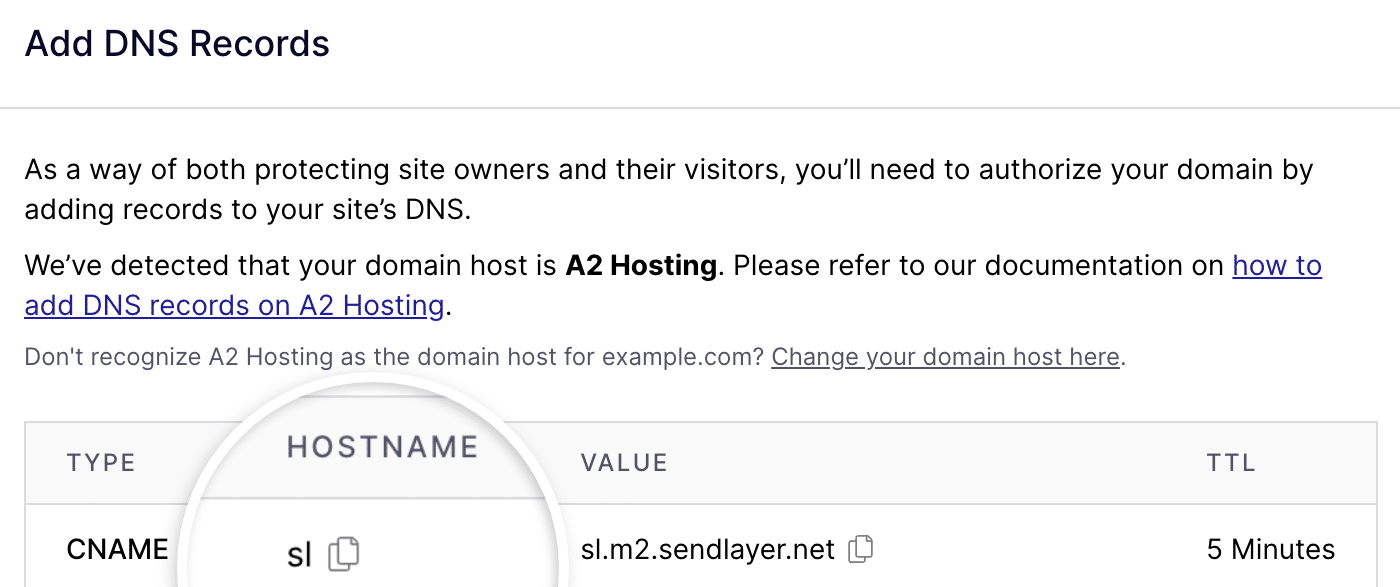 Next, paste the HOSTNAME from SendLayer into the Host Name field on your A2 Hosting domain's DNS settings.

For the Record Type, choose CNAME so that it matches the DNS record generated by SendLayer.

Next, copy the VALUE from SendLayer.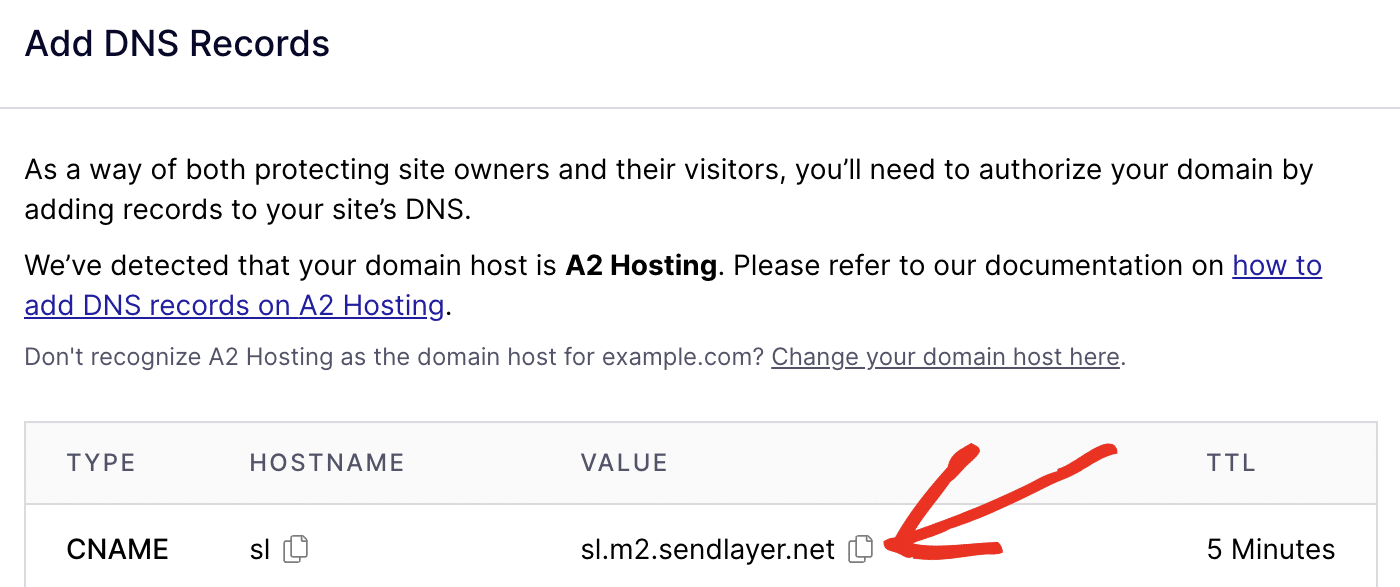 In A2 Hosting, paste the VALUE in the Address field, then click Save Changes.

Note: It can take up to 24-48 hours for DNS records to propagate.
After the page reloads, you'll be able to add a new record immediately. Make sure that you've added all 4 CNAME records and the 1 TXT record provided by SendLayer. When you're finished, you should have a list like this: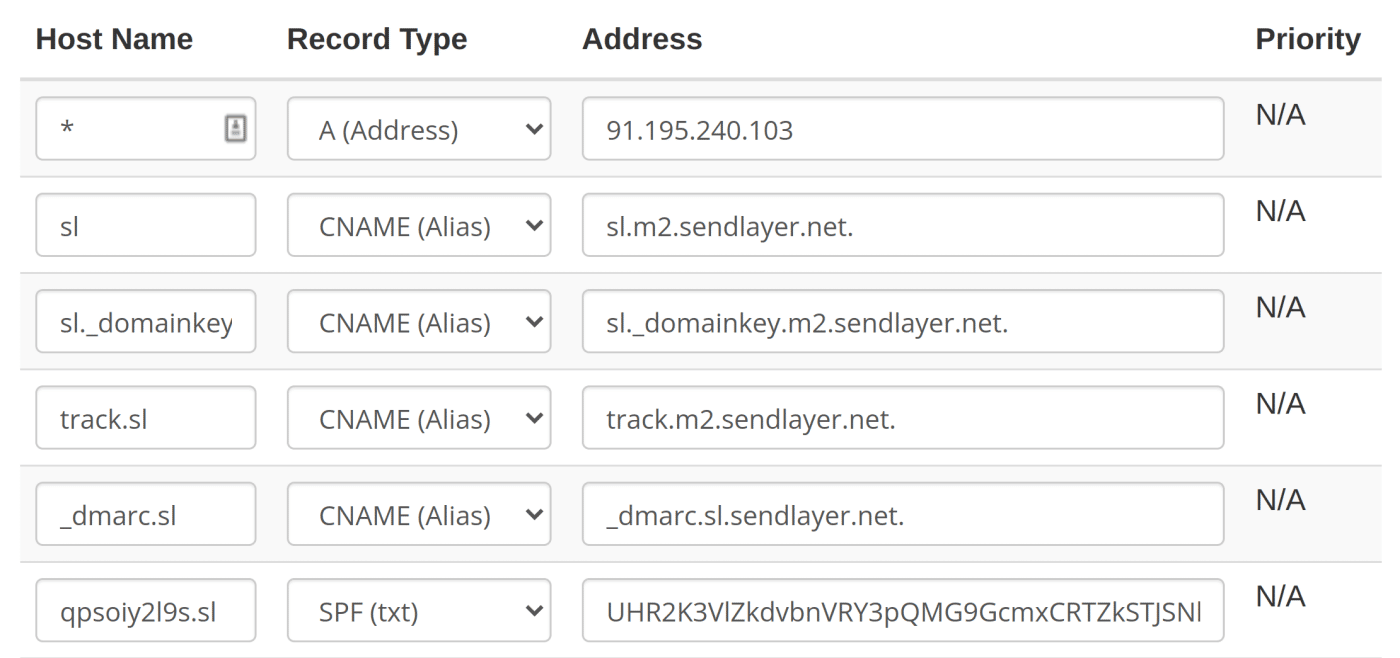 Note: If you need to remove a record, clear the Host Name and Address fields and click Save Changes.
Checking Your Domain Status
Once you've entered all of your domain's records, you can check if your domain's records have been propagated from your SendLayer account. As a reminder, it may take 24-48 hours for your DNS changes to be applied.
If you would like to learn how to check if DNS records have been added successfully, check out our tutorial on checking your domain status.
That's it! Now you know how to set up SendLayer with your domain on A2 Hosting.
Next, would you like to know how to protect your domain's reputation using a suppression list? Check out our tutorial on managing suppression lists for more information.